Q2. What are the Citizens' Observatories projects?
Created on: 2/24/2016; Modified on 11/14/2016; Citizens' Observatories
Answer:
CITI-SENSE is one of five Citizens' Observatories Projects funded under the European Union's Seventh Framework Programme (FP 7) in the Environment theme: "Developing community-based environmental systems using innovative and novel earth observations applications".
Started in autumn 2012, the programme is designed to respond to Europe's employment needs, competitiveness and quality of life.
The projects all aim at developing novel technologies and applications in the domain of Earth Observation, exploring the new possibilities offered by portable devices such as smartphones and tablets.
If you wish to know more about these please click on the logos below.
| | | | | | |
| --- | --- | --- | --- | --- | --- |
| | | | | | |
You can also find out more about all of the Citizens' Observatory projects at the combined website which can be found at: citizen-obs.eu (or by clicking the image below).

The PDF versions of our leaflet and business card for all of the Citizens Observatory projects can be accessed by clicking on the images below.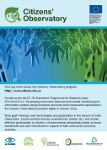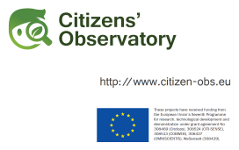 Viewed: 74 times